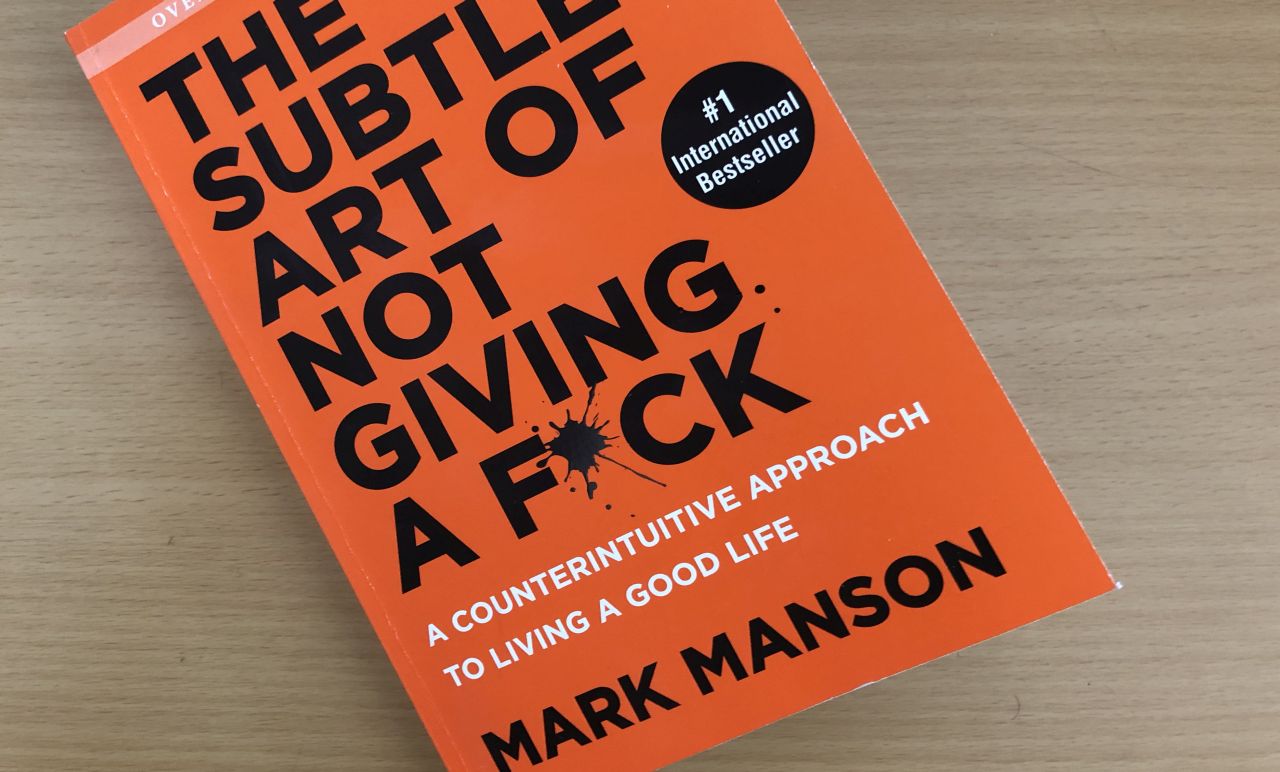 Review: The Subtle Art of Not Giving a F*ck
Mark Manson
What do you give a f*ck about?
I turned 40 a few years back. Around the time I turned 40, things felt like they were beginning to 'fall into place'. I often refer to it as that 'sense of alignment where everything is pointing in the same direction'. I was finding myself taking more risks from the heart instead of the head and bringing change into my life that felt good and more authentic. Doing that also took a greater sense of courage and vulnerability. To be able to step into a new and uncertain opportunity meant embracing the hope of a more meaningful day but also realising that there was a risk that I might also fall flat on my face. To be honest, even acknowledging both sides of that 'risk vs reward', I was ok with that. It didn't mean that I didn't still feel the anxiety of taking that risk however it did mean that I felt I was living far more authentically.
I remember being at a bar with a friend of mine named Darren and saying to him that I didn't feel like I took things as seriously anymore.
"No", Darren said to me, "of course you still do. It's just you know what things to be serious about and what no longer matters."
That, in a nutshell, truly sums up some of the key points in Mark Manson's 'The Subtle Art of Not Giving a Fuck'. It's the acknowledgement that some things are still truly worthy of our absolute care while others are inconsequential and should be left by the wayside so that we can invest that energy we have into something more meaningful and full of purpose.
Is it a self-help book?
While Manson might cringe at the label, 'The Subtle Art…' is still essentially a self-help book. It may not be for everyone; certainly, if you have an aversion to rather a strong language then you might struggle with it. However, someone using cursing and swearing doesn't offend you and you can recognise the power in how they're utilising it, then I suspect this is going to be a book that is going to resonate with you.
For a start, it can bring a smile to your face and the occasional laugh. Manson can be witty and self-deprecating, and he captures that spirit brilliantly within his choice of words. His 'superhero creation' of Disappointment Panda is particularly amusing.
However, there is a lot more on offer here. Even within the opening chapter, Manson manages to touch on concepts such as shame and vulnerability, the curse of feedback loops, paradoxical mindsets, existentialism, values and value-driven action, and acceptance. This is just chapter one. I found myself constantly letting out an almost silent 'yes' in agreement and the head was nodding frequently as I continued to move forward with each argument. For someone like me, who is fascinated by the concept of shame and vulnerability, who has been trained in Acceptance and Commitment Therapy, and who studied existentialism in Philosophy at University, Manson suddenly felt like someone who I think I would enjoy having a drink at the bar with. His observations on life resonated strongly with me because they observed the everyday struggle people have with the concept of perfectionism and the shame driven desire to have the bigger, latest and best.
Feedback Loops and Good vs Bad Values
What I truly appreciate about Manson's work is that he is capable of taking psychological concepts and making them very accessible to everyone. The way he talks about the feedback loop is brilliant and should help anyone who is overwhelmed by their emotions to understand why it is that they're feeling that way. It is impossible to talk with someone who is experiencing anxiety and do not explain to them the concept of the feedback loop; the feeling of anxiety is used to make that feeling of anxiety grow even stronger and it seemingly feeling outside of your control.
Manson also talks strongly about living life from a sense of your values. In ACT terms, living a value-driven life only leads you towards being the kind of person you want to be and having a rich, meaningful existence. Manson takes it one step further by talking about defining good and bad values; good values being reality-based, socially constructive and immediate and controllable whereas bad values being superstitious, socially destructive and not immediate or controllable. He goes on to state that honesty is a good value because it is something that you can control, it reflects reality and it benefits others while popularity, on the other hand, is a bad value because it is out of your control and isn't based in reality.
Anti-Self-Help-But-Really-Self-Help
'The Subtle Art of Not Giving a Fuck' is an easy read; at around 200 pages, it is something that you're likely to polish off in an afternoon if you're uninterrupted. Each chapter has it's own special message to share in Manson's own uniquely real way, including an understanding that happiness comes from solving good problems, understanding the value in suffering, understanding that we're generally wrong about most things, learning the importance of saying no, getting to grips with the 'failure/success paradox', and lastly a title that will appeal to almost every existentialist; '…And Then You Die'. I can promise you that, if you're assuming you're going to know everything under each banner given the 'anti-self-help-but-really-still-self-help' twist, think again. There is bound to be a story or metaphor or interesting fact that has you sitting back and truly contemplating something larger than the words on the page. It's moments like that which makes this book such an essential read.
You can grab the Kindle version here, the paperback here and you can check out Mark Manson's website here.
You might also like to read:
OUTthink – Daniel Witthaus – Discussion on Remote Rural LGBT
Release Hypnosis's Lawrence Akers on JOY FM
How I Learned To Tell Myself To Shut Up
We're Enjoying Our Third Anniversary