Release Hypnosis Celebrates 5th Anniversary!
Release – a Melbourne Hypnotherapy service that continues to grow!
The past 12 months have seen another really full-on, busy year for Release Hypnosis.
Lawrence Akers, the Hypnotherapist behind Release Hypnosis, has continued to help a diverse range of people to overcome some of the challenges in their lives and to embrace a new identity. From helping people to quit smoking and losing weight, to people who are experiencing a painful level of anxiety and uncomfortable phobias, we've been able to assist people in letting go of those old behaviors and beliefs that were holding them back.
To celebrate our anniversary, we're offering our annual special deal; three sessions for the price of two! That's a 33% discount! (Terms and conditions apply)
If you have a problem, perhaps now is the time to consider how hypnotherapy can help you to make steps forward.
You can also find out Facebook, Instagram, and Twitter pages online.
What problems can Release Hypnosis offer hypnotherapy for?
At Release Hypnosis, we can help with a wide range of conditions. These include among others:
Addiction and Recovery Motivation
Anxiety
Obsessive-Compulsive Disorder (OCD)
Depression
Sports Performance and Motivation
Improving General Confidence and Self-Esteem
Insomnia and Sleep Disturbances
Fears and Phobias
Public Speaking
Shy Bladder
Stress Management
Unwanted habits
Virtual Gastric Banding
Weight Loss / Weight Management
Release Hypnosis also works with the LGBTQIA+ community
Release Hypnosis is also one of the few practices in Australia to offer a service focusing on the LGBTQIA+ community, offering services catering to the very specific needs of gays, lesbians, transgender, queer, bisexual, intersex and asexual people.
With that, we feature regular blogs on our website catering to the LGBTQIA+ community as well as our regular podcast OUTthink.
You can find out more about OUTthink on our Facebook page.
Release Hypnosis presenting at HypnoBiz Australia – March 2020
Lawrence is also excited to be presenting at HypnoBiz Australia on March 14th and 15th 2020 as one of 40 local and international speakers.
Hypnotherapy HQ
Release Hypnosis is also one of the partners in Hypnotherapy HQ.
Our location on St Kilda Rd in Melbourne is convenient for those who are based in the inner suburbs of Melbourne.
We not only provide a convenient room hire option but also inexpensive and thorough training options.
You can find out more information about Hypnotherapy HQ on our Facebook Group page and you can sign up for our e-newsletter here.
Melbourne Hypnotherapists Practice & Network Group
Lawrence also hosts the regular Melbourne Hypnotherapists Practice and Network Group which has built up a following for being one of the most friendly and informative practice sessions Melbourne has to offer.
This is a regular FREE 2-hour event with a different topic each time. To come along, you must have studied hypnotherapy or hypnosis prior – this is not a training session, it is a practice group.
For more information and to sign to the e-newsletter list, click here.
Recording for Hypnotherapists Workshop
Now a massive 13 workshops strong, this day-long workshop helps to teach hypnotherapists and mindfulness coaches how to use the equipment they most likely already have to get fantastic audio results.
Within this workshop, we teach people how to record, edit, clean up, add effects, add background music and even how to create and add binaural beats as well as looking at recording techniques like the dual-channel recording.
This is a workshop made by hypnotherapists for hypnotherapists and so we understand how to get the best results. The workshop is hands-on, full of laughs and packed full of content.
Current 'Recording For Hypnotherapists Workshop' Opportunities
Recording for Hypnotherapists – Recording Basics 101
FREE online course with over 1 hour of content to show you the basics right away.
Click here to access the course immediately.
Recording for Hypnotherapists Workshop Online (Self Paced)
If you're looking for an online library of content that will take you from beginners to advanced with hypnotic audio creation, then this is the online training for you.
Included in the price is 13+ hours of video content (and growing) covering everything from recording basics 101, effects, background music and soundscapes, binaural beats and frequencies, podcasting basics, and even how to take your skills and apply them in a more practical way.
You'll also have access to a private Facebook Group and you get one free one-one-one Zoom call to answer any questions you might have from the course.
All this for only AUD$400 – Sign up Here!
Recording for Hypnotherapists 6 Week Online Training
This is ideal for anyone who is hoping to have a little more hand-holding during the training process with 6 weeks of training content, 8 weeks of Zoom calls, and an exclusive Facebook Group.
The next one starts on Monday 24th July 2023 and costs only AUD$500 – that's only AUD$68 a week!
Payment Plans option is available here.
For more information on the course and/or to sign up, click on this link: here.
If you don't need any further information and you're ready to sign up, click here.
Ready To Jump Into The Six Week Training?
Release Hypnosis Testimonials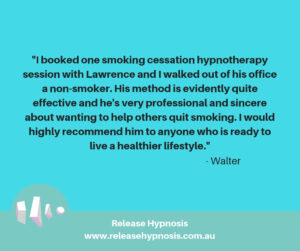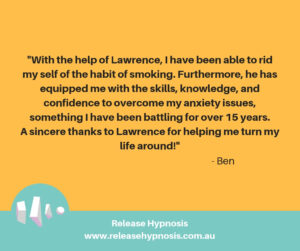 Join Our Mailing List!
Just fill in your details below and you'll receive the link to download your hypnosis audio on the following page.
TAKE ADVANTAGE OF THIS SPECIAL OFFER NOW
You may also like to read:
Release Hypnosis's Lawrence Akers on JOY FM
So, You've Decided To Become a Non-Smoker
Why I Created OUTthink
The Recording For Hypnotherapists Workshop